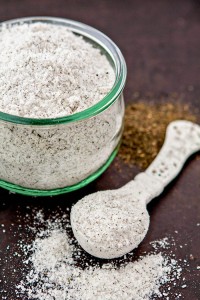 INGREDIENTS:
5 bags Green Tea
1 3/4 cup Epsom Salt
2/3 cup Baking Soda
1 1/2 tablespoons Vitamin E Oil
15 drops Eucalyptus Essential Oil
10 drops Lavender Essential Oil
Order Ingredients
INSTRUCTIONS:
Open the tea bags and remove the loose tea leaves. Discard the empty bags. Add the green tea, epsom salt, baking soda, Vitamin E Oil, Eucalyptus, and Lavender to the bowl of a food processor fitted with a blade.
Process the ingredients until combined. Transfer the mixture to a jar or zip top bag. Store in a cool, dry place.
Add 1/2 cup to warm bath water. Soak in the bath for 30 minutes.