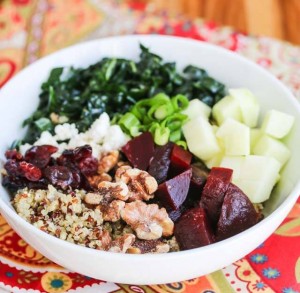 1. Quinoa Beet Kale Apple Walnut Goat Cheese Salad
Ingredients
Salad
1 cup quinoa
2 cups water
4 cups lacinato kale, cut into strips
2 teaspoons extra virgin olive oil
campaignIcon
juice of half lemon
a few dash of salt
1/2 pounds roasted beets, chopped
1/4 cup dried cranberries
1 apple, diced
1/4 cup toasted walnuts
4 ounces goat cheese, crumbled
2 scallions, chopped
Dressing
2 tablespoons flax seed oil
2 tablespoons extra virgin olive oil
2 teaspoons raw honey
1/4 cup unfiltered apple cider vinegar
1 teaspoon Dijon mustard
1 teaspoon prepared horseradish
1 clove garlic, minced
1/2 teaspoon sea salt
1/4 teaspoon freshly ground black pepper
Instructions
Rinse quinoa and place in saucepan with 2 cups water. Bring to a boil, then reduce heat to medium low, cover, and cook for 15-20 minutes until liquid is absorbed. Whisk together dressing ingredients and add to cooked quinoa; let quinoa cool to room temperature. Combine kale, olive oil and salt in a bowl and massage until soft, about 3-4 minutes. When ready to serve, toss together quinoa, kale, beets, cranberries, apple, walnuts, goat cheese and scallions.
2. Beet and Ginger Detox Elixir (serves 2)
Ingredients
1 medium beet, peeled and cut into quarters
1 pink grapefruit, peeled and cut into slices
1 inch ginger knob, peeled
½ pomegranate, seeds only
2 cups brewed detox tea, warm
Instructions
Juice all the ingredients and mix the liquid with the detox tea. Drink immediately to get the maximum benefits from the fresh nutrients.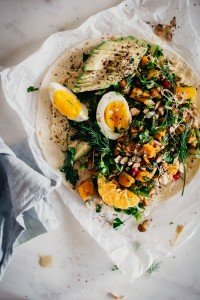 3. Easy Lunch Wrap with Sweet Potato, Hummus and Egg (serves 2)
Ingredients
1 sweet potato, cubed, roasted
1 small bunch parsley, roughly chopped
1 small bunch dill, roughly chopped
½ pomegranate, seeds only
1 free-range egg, boiled softly and cut into halves
1 ripe avocado, peeled and cut into slices
1 tangerine, peeled and cut into slices
¼ cup lightly toasted almonds, crushed
Freshly ground black pepper
2 gluten-free or whole wheat tortilla
Instructions
In a medium bowl add the sweet potato, parsley, dill, pomegranate seeds, tangerine, almonds, sumac, cumin, salt, pepper, lemon juice and tahini, and toss to combine.  Spread one tablespoon hummus on a tortilla, add half of the salad, top with avocado slices and half boiled egg, wrap tightly and pack in foil to go. Repeat the same with the other tortilla.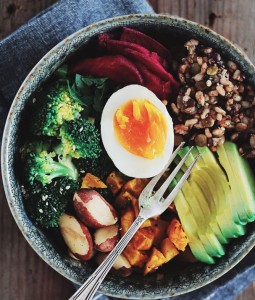 4. The Complete Nourishing Winter Bowl (serves 2)
Ingredients
¼ cup cooked lentils
¼ cup cooked brown rice
1 organic egg, boiled, cut in half
1 ripe avocado
1 cup steamed broccoli florets
6-10 brazil nuts
1 tsp chia seeds
½ tsp sesame seeds
½ cup cooked beet root, cut in slices
½ cup roasted sweet potato, cut in cubes
2 tbsp extra virgin olive oil
½ tsp sea salt
½ lemon, juice only
freshly ground black pepper
Instructions
Arrange all ingredients in a large bowl. Add olive oil and lemon juice and stir to combine. Season with salt and pepper and serve.

5.The Ultimate Veggie Sandwich Recipe (serves 1)
Ingredients
2 slices of bread
mustard to taste
6 leaves of romaine lettuce
1 small carrot
1/2 small cucumber
salt and pepper, to taste
1/8 head red cabbage
1 avocado
handful of sprouts
3 slices of tomato
thin slices of red onion
Instructions
Start off by prepping your vegetables. Trip the lettuce leaves to the size of your bread. Julienne or shred the carrot, thinly slice the cucumber and cabbage. Pit and peel the avocado and thickly slice. Toast the bread and let cool (so it doesn't get soggy). Spread on mustard to taste and build your sandwich: 1/2 of the lettuce leaves, carrots, cucumber, salt and pepper, cabbage, avocado, sprouts, tomato, onion, then the remaining lettuce and top slice of bread. Wrap tightly in parchment paper or wax paper and slice in half. Enjoy immediately!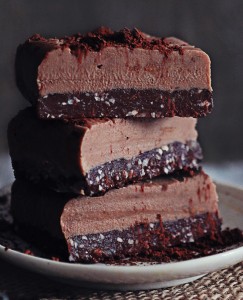 6. Raw Chocolate Almond Butter Fudge Bars (serves 6)
Ingredients
1 cup pitted dates, soaked in filtered water for 1 hour and drained
4 tbsp raw cacao powder
2 ripe bananas
1 &1/2 cup raw almonds, unsalted
½ cup raw cashews
½ cup raw hazelnuts
1 tbsp coconut oil
2 tbsp raw honey
Instruction
Place the pitted dates, 2 tbsp raw cacao powder, cashews and hazelnuts in the food processor and mix until well blended. Spread the mixture in a small baking pan an press it down with your fingers or a spoon. Place the almonds in the food processor and mix to obtain peanut butter (it should take about 10-12 minutes, pausing every minute to not overrun the machine; the texture will go all the way from coarsely chopped, to crumbly, finely ground and butter). Add the bananas, honey, coconut oil and 2 tbsp raw cacao powder to obtain a smooth cream. Pour the banana cream on top of the date base and spread evenly. Cover with a plastic foil and place in the refrigerator for 30 minutes. Remove from the refrigerator, cut in squares, sprinkle with raw cacao powder and serve.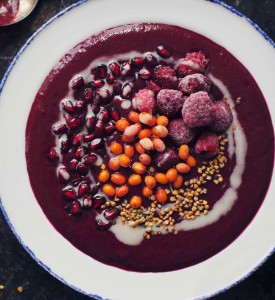 7. The Beet, Raspberry and Vanilla Smoothie Bowl (serves 1)
Ingredients
1 small beet, peeled and chopped
1 cup raspberries, fresh or frozen (I use frozen)
2 cups packed spinach
3 prunes, soaked in 1/2 cup water
small wedge organic lemon (including the peel!)
1-2 scoops protein powder (I use sprouted brown rice or pumpkin seed protein powders)
1-2 tsp. wheatgrass powder (or spirulina / chlorella)
a pinch ground vanilla powder (or 1 tsp. vanilla extract)
1/2 cup water or milk of choice
Toppings pictured
frozen raspberries, pomegranate seeds, sea buckthorn berries, bee pollen, raw almond butter
Other topping ideas: sliced fresh fruit, fresh berries, hemp seeds, toasted nuts and / or seeds, chia, unsweetened coconut, granola, cacao nibs, goji berries
Instructions
Soak prunes overnight in water, or for a minimum of one hour. Pour the soaked prunes and their liquid into a blender. Add all remaining ingredients and blend on high until completely smooth (if you do not have a high-speed blender, this may take a minute or so). Taste and adjust sweetness / vanilla / lemon as desired.. Pour contents into a glass or bowl and garnish with desired toppings.
Grocery list:
Grains
¼ cup lentils
¼ cup brown rice
1 cup quinoa
Fresh produce
1 head romaine lettuce
1 small carrot
1 small cucumber
1 head red cabbage
2 bananas
2 sweet potato
4 cups kale
1 cup broccoli
3 avocados
1 tomato
1 tangerine
1 red onion
1 box sprouts
1 small bunch parsley
1 small bunch dill
1 pound beets
¼ cup dried cranberries
1 apple
1 pink grapefruit
1 cup raspberries
2 cups spinach
3 prunes
1 pomegranate
2 scallions
1 lemon
1 ginger knob
1 hummus
Nuts
¼ cup toasted walnuts
1 cup almonds
½ cup raw cashews1/2 cup raw hazelnut
¼ cup brazil nuts
1 cup dates
Dairy
4 ounces goat cheese
2 free range egg
Oil and spices
Flex seed oil
Extra virgin olive oil
Coconut Oil
Raw honey
Chia seeds
Sesame seeds
Dijon mustard
Horseradish
Sumac
Protein powder
Wheatgrass powder
Vanilla powder
Cacao powder
Cumin
Tahini
Sea salt
Black pepper
Detox tea
Bakery
Gluten free or Whole Wheat Tortilla
Multigrain Bread